The Jewish holiday of Purim has gone to the dogs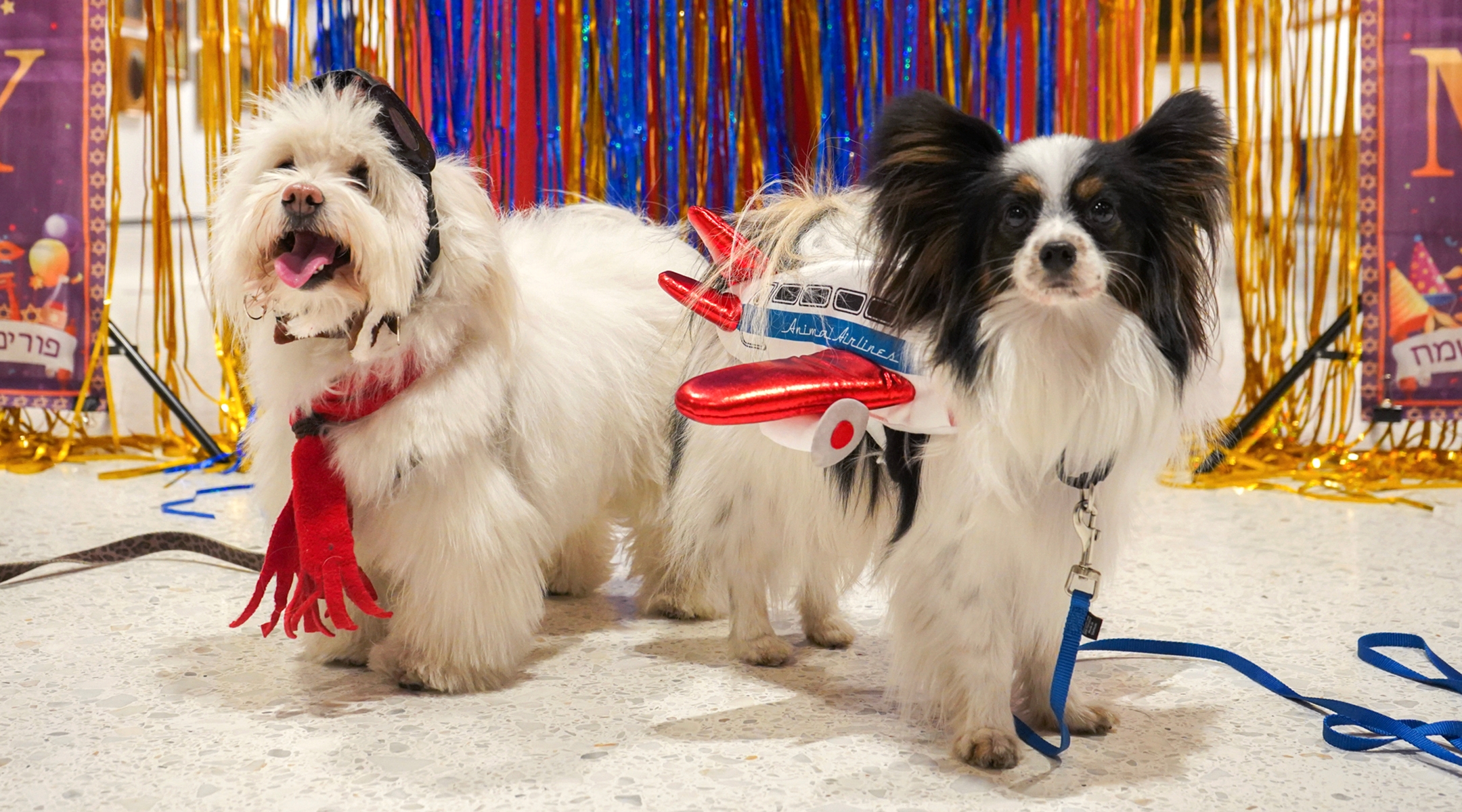 (New York Jewish Week) — The American Kennel Club's Museum of the Dog, just two blocks south of Grand Central, boasts many things, including an extensive library about dog breeds and one of the world's largest collections of dog-themed art.
As of this past weekend, it's also a place where dogs and their owners can celebrate Jewish holidays together.
As part of the museum's "Furry Fridays" program — a biweekly-ish event in which four-footed friends are welcomed inside the galleries  — Sarah Moshenberg, the museum's manager of learning and engagement, created the institution's first-ever Jewish event: A "Pawrim" party for Purim, in which humans and canines were invited to dress up in costume, socialize with one another and eat hamantaschen (yes, there were hamantaschen for dogs).
"Being Jewish myself, I was really excited to do a Jewish event," Moshenberg, dressed in a bright pink homemade flamingo costume, told me. "I would love to do more holidays; more opportunities for all sorts of folks who celebrate all different types of holidays to come here and enjoy themselves with their dogs — that's the excitement."
"I have three human children," she said. "My oldest is 8, so I love taking them to the Purim celebration at shul, and then getting to do the parade, watching them in their costumes, showing off… Being able to do that here, but with your dog, is really fun."
The Purim party, Moshenberg explained, was an outgrowth of an upcoming Furry Friday that happened to fall on St. Patrick's Day, March 17. In planning the event calendar, Moshenberg had the idea for a "St. Pawtrick's" party and, from there, the punny themes came easily — Feb. 17, for example, was "Mardi Paws" in honor of Mardi Gras.
Pawrim, as it happens, was inspired by my best girl Shayna Maydele, the adorable Upper East Side-dwelling white Coton de Tulear with a charming Instagram account whom I called "possibly the most Jewish dog in New York" last year.
"I saw the article on Shayna Maydele and I really wanted to do something with her," Moshenberg said. With a Furry Friday scheduled just three days ahead of Purim (which begins tonight!) — and once Shabbat availability was cleared with Shayna Maydele's "manager," Heidi Silverstone — the party was a go.
On Friday evening, Shayna Maydele, dressed as an aviator for the occasion, took to her first-ever party hosting duties with aplomb. She and her pal Vito, a shih-poo dressed in a penguin costume, gamely posed for the "paw-parazzi" on the museum's stairs.
"We came for Shayna Maydele!" said Vito's owner Mina Kim, a dentist who lives in Midtown. "She's just the sweetest dog."
Kim, who is not Jewish —  "I grew up in Bergen County; I've been around Jewish people my whole life!" — added that "doggie hamantaschen" was the second major draw.
As Kim and I chatted, an adorable mutt named Henry — dapper in a very "Wall Street"-esque pinstripe suit — entered the scene and immediately demanded belly rubs. "I couldn't find his costume," his owner, Robyn, who declined to provide her last name, told me. "I just grabbed a shirt — he wore it to a bark mitzvah."
Support the New York Jewish Week
Our nonprofit newsroom depends on readers like you. Make a donation now to support independent Jewish journalism in New York.
Robyn, who lives in Murray Hill, said she and Henry had been to a Furry Friday event before. "He needs to learn his Jewish roots," she said, adding, "it's something to do."
Upstairs, in the museum's spacious third-floor gallery, klezmer music played quietly in the background as dogs sniffed one another's tushes and owners gushed over the adorable panoply of costumed canines. Among them was Finley, a papillon who was dressed as an airplane — unintentionally twinning with the dog of the hour! — and Loli, a tiny shih-poo who was dressed as Sulley from "Monsters, Inc."
Liz Karpen and her sister, Rebecca, were there with their Havanese, Allen Bader Ginsberg, who was dressed in a homemade hamantaschen costume. "I was already going to make her a costume, but it was just going to be to wander around in the house — maybe I would strut her around the street in it," said Liz, who learned about the party from Shayna Maydele's Instagram. "This gave me an excuse to make something that people are going to see."
The sisters have additional plans for the holiday, but this was their only opportunity to celebrate Purim with Allen. "I tried finding other things for dogs, but there's not much," Liz said. "I also didn't want to assume this costume would last more than one night."
Shara Safer, a law school student who lives in the Village, had learned about the party while at a dog park with her Shih Tzu, Clem, and immediately knew they had to attend. "I really need to get more involved in Jewish events," she said, adding that she's "not super practicing" right now. For Purim itself, Safer said she may visit her family and make some hamantaschen.
"I would love it if I could bring him to shul," she said of Clem, who was dressed as Cerberus — the three-headed dog that guards the underworld in Greek mythology. (The clever costume, handmade by Safer, took "too long" to make, she said.)
Indeed, much like Moshenberg pointed out, being able to celebrate the Jewish holiday with their dogs — instead of having to leave them at home — was a draw mentioned by several partygoers. Upper West Siders Andres and Nicole Gannon said they came to the party because they were excited by "the opportunity to have him in costume and celebrate Purim," said Andres Gannon. Their pug, Monster, had been dressed as the Beast from "Beauty and the Beast," but they had removed his costume before heading out into the drizzly evening.
When asked about other plans they had for the holiday, they said: "This is our Purim celebration."
As for Shayna Maydele, Silverstone said in an email after the event that her pup "loved interacting with the other dogs. It was very different than her regular playing in a dog park — all of the dogs were leashed, and it was in a museum setting. Since it was new to her, she had so much fun exploring.
"It definitely made me feel good about what I am doing on social media, since sometimes I wonder whether it is a productive use of my time, posting photos of my dog," Silverstone said. "However, when I see the happiness it brings to people, and the awareness it brings about the goodness of Judaism, I realize that it is definitely worthwhile."
As for future Jewish events at the museum, Moshenberg said she's open to departing from the Furry Fridays routine. "I would love to do this again," she said. "I also think I wouldn't have it on Shabbos next year — I would plan something around it so we wouldn't have a conflict in that case, and we could definitely invite more of the Jewish community."